Piłka nożna
Zajęcia z piłki nożnej w naszym przedszkolu są prowadzone przez wykwalifikowanego trenera UEFA B, byłego zawodnika Jagiellonii Białystok oraz RTS Widzew Łódź. Podczas zajęć dzieci, będąc pod opieką trenera, wkraczają w zaczarowany świat bajek i opowieści, w którym przeżywając przygody bawią się, rywalizują w duchu fair play oraz grają w mini piłkę nożną. Dzięki odpowiedniej liczebności grup (do 12 os.) każde dziecko może liczyć na pełne wsparcie zarówno pod kątem pomocy w czasie piłkarskich zadań jak i rozwijania talentów, które drzemią w każdym małym człowieku. Dodatkowo każde dziecko może przyjść na zajęcia popołudniowe prowadzone przez nas w Akademii Piłkarskiej SPARTA Białystok (Link)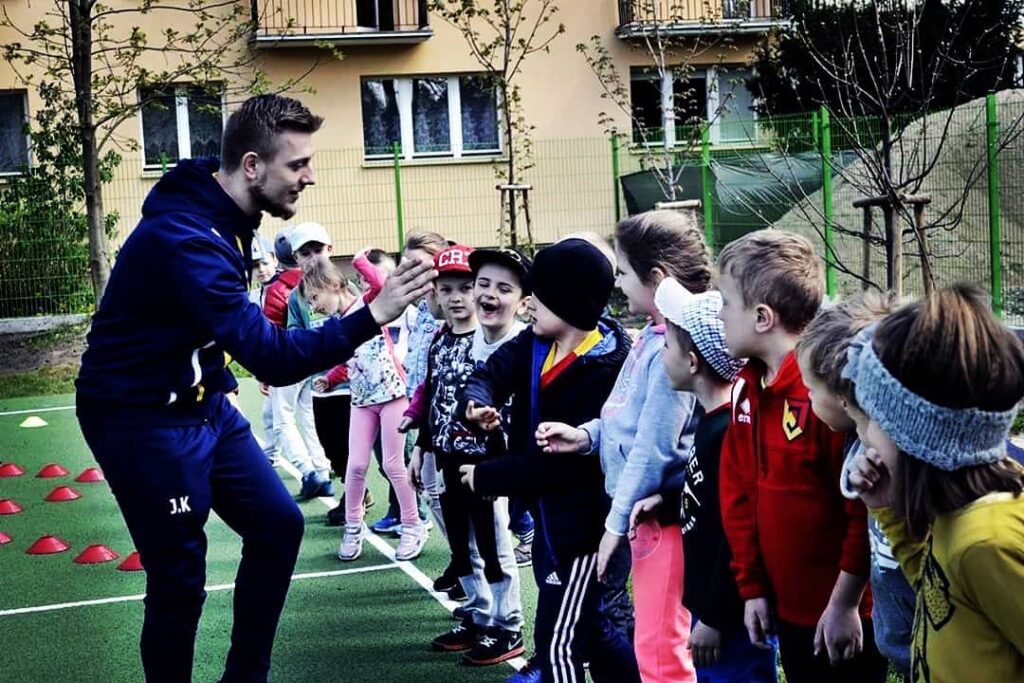 Programowanie
JĘZYK PROGRAMOWANIA, KTÓRY TWOJE DZIECKO MOŻE DOTKNĄĆ!
Zajęcia w Klubie Młodych Programistów nie wymagają od Twojego dziecka umiejętności czytania ani pisania. Wszystkie zagadnienia wprowadzane są w bardzo przyjazny sposób przy minimalnym użyciu tabletów, a nawet bez ich udziału.
Twoje dziecko będzie również programowało roboty, które nie wykorzystują żadnych ekranów (tabletów, komputerów czy smartfonów). Wszystko to w ramach akcji Programowanie Przyjazne Dziecku, której celem jest stopniowe i delikatne wprowadzenie Twojego dziecka w świat robotów, programowania oraz nowych technologii.
Zajęcia stworzone przez tatę dla swoich córek, teraz są również dostępne dla Twojego dziecka.
Przedszkoliada
Adresatami programu zajęć Drużyny Kangura w ramach ogólnopolskiego systemu rozrywki ruchowej Przedszkoliada są dzieci w wieku przedszkolnym (3-6 lat). Program zajęć Drużyny Kangura jest formą zachęcenia dzieci do podejmowania aktywności fizycznej opartej na ćwiczeniach z piłkami. Jest on odpowiedzią na potrzebę realizacji zainteresowań ruchowych przedszkolaków oraz ich rodziców, chcących zapewnić swoim dzieciom jak najlepsze warunki do rozwoju fizycznego i motorycznego.
Program zajęć jest logicznie ułożony – od zajęć najprostszych do coraz bardziej złożonych. W rezultacie prowadzonych zajęć uzupełnionych o ich oprawę oraz pozostałe elementy systemu rozrywki ruchowej Przedszkoliada uzyskujemy unikatowy w skali światowej projekt kreujący kulturę fizyczną wśród przedszkolaków.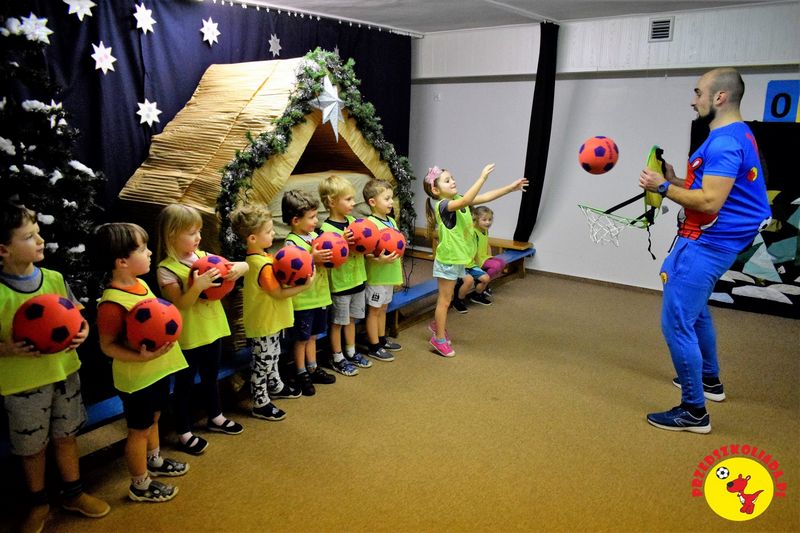 WINgee
Poprzez realizację zajęć taneczno-rozwojowych WINgee – Rozwiń Skrzydła – chcemy wspierać dzieci, ponieważ wiemy, że zasługują na to co najlepsze. Pokazujemy dzieciom, dlaczego warto jest dawać z siebie maximum możliwości, dlaczego warto jest się starać i rozwijać. Celem jest rozwój u dziecka tzw. motywacji wewnętrznej – czyli motywacji powodującej zachowanie, której celem nie jest osiągnięcie zewnętrznych nagród (jak kolejna zabawka czy słodkość), a uczucie satysfakcji ze tego co się robi oraz z postępu jaki temu towarzyszy.