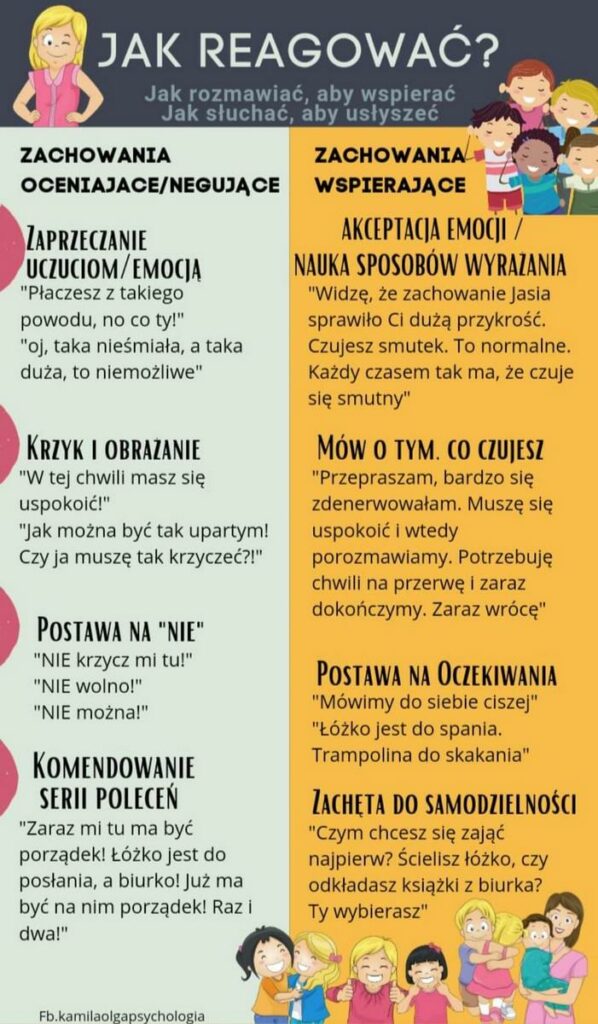 Budowanie relacji Rodzic-Dziecko opiera się  na komunikacji, na akceptacji, na zachęcie i…na rozwoju samodzielności.
Reaguj i działaj.
Zachęcaj i wspieraj w rozmowie.
Bo słowa…mają wielką MOC!
Niektóre komunikaty mogą wspierać…
Niektóre komunikaty mogą utrudniać…
BUDOWANIE RELACJI.
Dorosły-Dziecko.
Niektóre komunikaty bywają skuteczne…
Niektóre komunikaty bywają nieskuteczne…
W KOMUNIKACJI.
Dorosły- Dziecko.
Niektóre postawy mogą zmienić wiele i w budowaniu relacji i w budowaniu skutecznej komunikacji.
To postawa pokory, cierpliwości, empatii i otwartości.
Te 4 elementy tworzą wielką MOC!
POKORA – tak popełniam błędy, działam szybciej niż myślę, jestem świadoma, że nie zawsze robię to co należy najlepiej. Wiem, co potrafię dobrze i wiem, że mogę się jeszcze wiele nauczyć.
CIERPLIWOŚĆ- Moje próby są ważne. Nie oczekuje natychmiastowych efektów. Pracuje, ćwiczę, staram się…
EMPATIA- Rozumiem uczucia swoje i swojego dziecka. Staram się popatrzeć na świat z jego perspektywy. Nie boję się mówić, doświadczać emocji.
OTWARTOŚĆ- Wiem, że są inne sposoby na budowanie relacji, rozmowę czy wychowanie i poznaje te, które uznam za wartościowe. Czytam, poszukuje odpowiedzi.
Czy jestem idealnym rodzicem?
Nie!
Czy moje dziecko jest idealne?
Nie!
Ale jesteśmy prawdziwi.
Ja się staram "dziś" dla naszej relacji, aby "jutro" ta relacja przetrwała wszystko.
Można być NIEidealnym i NAJWSPANIALSZYM rodzicem na świecie.
Spróbuj.
Działaj.
Ps. Nie poddawaj się.
Źródło:
Kamila Olga – psycholog