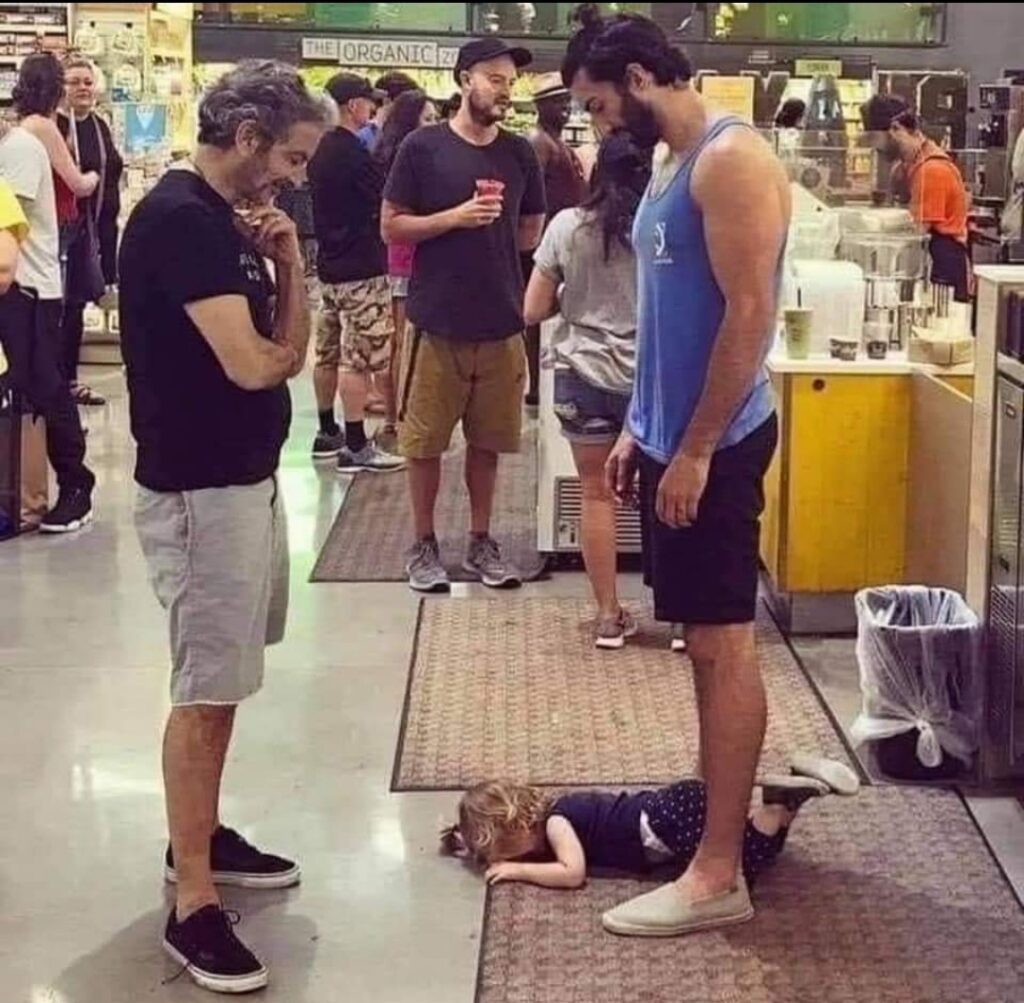 Niesamowite zdjęcie. Dwóch całkowicie spokojnych mężczyzn czeka, aż minie napad złości małej dziewczynki. Ci mężczyźni, to ojciec i dziadek dwulatki, która leżała na podłodze w środku centrum handlowego. Żaden z tych mężczyzn nie traci cierpliwości, nie denerwuje się, nie krzyczy na nią.
Po prostu czekają.
Nie dali jej tego, czego w tym momencie chciała, ale pozwolili jej wyrażać swoje emocje – w tym przypadku złość.
Nikt wokół nie czuje się zawstydzony zachowaniem dziewczynki.
Najlepszym komentarzem do całej sytuacji są słowa ojca, które napisał przy okazji zamieszczania tego zdjęcia w sieci:
"Ten post dotyczy tylko jednej rzeczy – poczucia spokoju w trudnej dla dziecka sytuacji. Nie ma idealnych rodziców, lecz jedna rzecz, której się nauczyłem, to być rodzicem niezależnie od tego, co myślą inni. Mój tata zawsze pozwalał mi czuć to, czego akurat potrzebowałem, nawet jeżeli okazywałem to w miejscu publicznym i wprawiałem wszystkich w zażenowanie. Nie pamiętam, żeby powiedział mi: "Zawstydzasz mnie! O, nie płacz!". Dopiero niedawno zdałem sobie sprawę jak ważne było to dla mojego własnego rozwoju emocjonalnego. Nasze dzieci ciągle się uczą, przetwarzają mnóstwo informacji i nie zawsze wiedzą, co zrobić z tymi wszystkimi nowymi emocjami, które się pojawiają".
Krzyk…budzi krzyk.
Napięcie wyzwala złość.
Złość, która jest skierowana na innych…bezbronnych, słabszych, mniejszych…uczy, że złość to siła.
Siłą nie buduje się nic trwałego, ale na trwałe można zniszczyć to co ważne.
Nie dziele się złością, krzykiem i siłą bo taką podjęłam decyzję.
To wybór.
Jeśli coś tworzy z nas prawdziwych ludzi, to chyba właśnie to "że możemy przestać krzywdzić".
Świadomie.
Nie daj się krzywdzić i nie krzywdź…
Przeproś.
Pokaż, że można inaczej.
Źródło:
Kamila Olga – psycholog
Marek Majchrowski